By Terry Borden:
Pre Trip Ramblings: My License to Call Others Out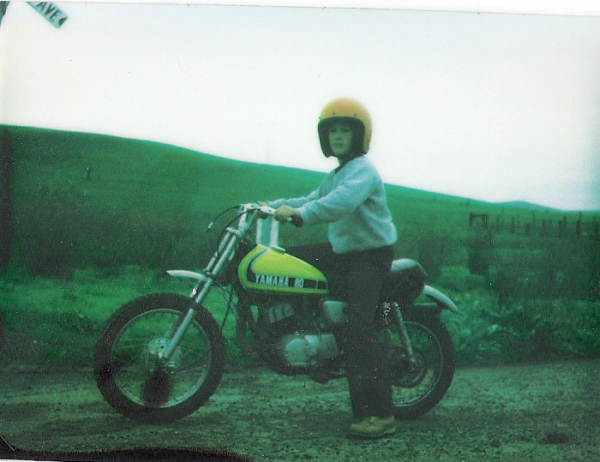 Fearless me at the age of 11 (Before sneaking off to explore)
"Those are things other people do" is what I used to think when I'd read about families or individuals making huge changes in life direction. I would even take cheap shots at how they must be rich or have special circumstances that allowed it all to happen so easily. I had no idea how much sacrifice and planning went in to such a life change. This would be just the beginning of many life lessons.
I was 35, happily married for 12 years with a 4-year-old son, and had followed the path that everyone said you should.  You know, get married, buy a house, buy a car, buy a bigger house, have a child…you get the picture. Still, with all of that, there was something missing. Everything was so calculated and predictable that I had forgotten a sense of adventure that had been long squelched by responsibility.  I would often sit and think back to the days of being a preteen, disappearing for hours on my little Yamaha GT80 motorcycle without a care or concern with "What if's".  These "What if's" were now all I thought about, and it was quietly smothering me.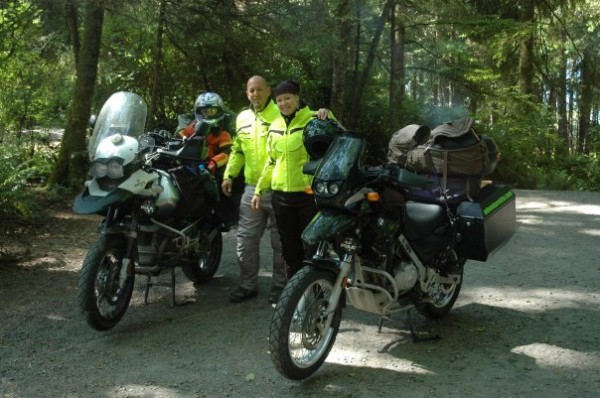 Ready to ride after a camp stay in British Columbia
During my son's 4th birthday party, my wife overheard me discussing motorcycles with some old high school friends who also once rode and were considering getting back into riding.  Like my friends, I too would often spot a touring motorbike on the road and try to catch up to it to see what they were carrying or where they were from. I wanted to be that kid again, mesmerized by the thought of grabbing a slice of freedom from my youth. My wife exclaimed from the other room, "Do it". And when I dismissed her comment, she again said, "You need this. Just buy the damn bike".  No more mental excuses. I soon found myself on Craigslist looking for my perfect machine – a BMW 1150 GS adventure touring motorcycle. I had read about the trips other guys had taken on these bikes, on and off road, camping and sightseeing along the way. Perfect!  I located this perfect machine in my price range, and off I went.
1st Solo Trip to Washington
After some commuting and a few short trips with friends, I was hooked. A trip with my wife to an adventure rally in the desert sealed the deal when I realized how many great people there were out there with the same passion for travel and, ultimately, life. This machine took me from being often leery of strangers to going out of my way to engage in conversation with others, hoping to share this awakening with the masses.
It wasn't long after my purchase that my wife confessed that while riding pillion was nice, she wanted her own bike. She's always been the adventurous one with me pushing back.  I was very excited she wanted to join in on the ride. Off again find her perfect machine and proper training.  Most of our free time was spent finding new directions to explore.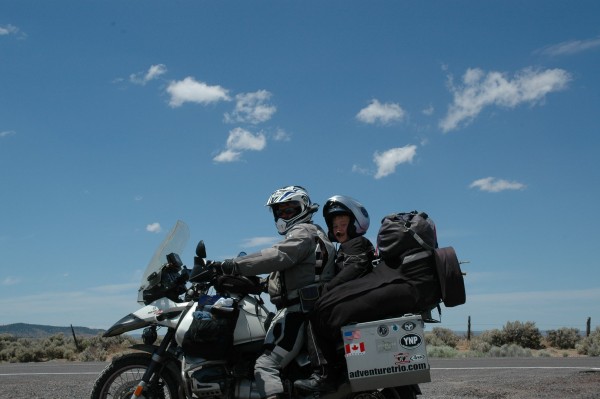 In the middle of "somewhere" USA
Our son, now almost 5, was intrigued with these 2-wheeled machines that were now the focus of much attention in our suburban neighborhood. With our son in motocross riding gear sitting between me and the tank bag, we spent many hours roaming the forests in Northern California, enjoyment every moment of our time together. We soon found a proper street riding suit for him, and he found every excuse in the book to ask to go for a ride. Short rides in town became journeys to neighboring counties.  Rides to neighboring states became international border crossings to Canada and Mexico. This is not what I had planned when I was originally told "You need this". I had no idea this much excitement still lived inside of me. How fortunate to not only have a supportive spouse pushing me outside of my adopted comfort zone, but she wanted to come along for the ride.  And, with our son.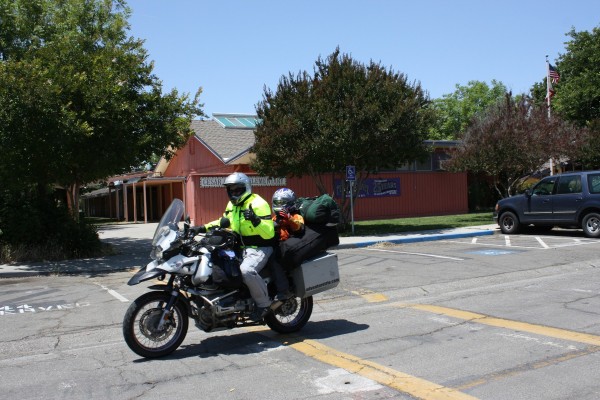 An 8 year old Jack departs for Canada on the last day of school 2009
As we've traveled as a family, meeting people from all over the globe, the three of us realized that for us there is more to be had in this life.  We had outgrown the suburban norm and were now those weird people who were always traveling or had a garage full of visiting motorbikes and laughter coming from the back yard.  We enjoyed hearing stories from other travelers, but the time had come for us to go see for ourselves. In May 2013, family "Trio" had decided to downsize the way we lived, save, and start making plans to leave our typical suburban life.  In just over a year, we were to leave on a journey south through Mexico, Central and South America, landing at the tip of Argentina, turn around, and ride back. It would be an 18-month trip, spending quality uninterrupted time with our preteen son to show him the world beyond the media.
For me, this is no longer what "other" people do.