The Adventure Trio Family Wants You To Follow Them Home
0
The Adventure Trio Family Wants You To Follow Them Home
"The motorcycle family of 3 that left the California suburban norm in 2014 makes their way home after over a year on the road through Mexico, Central and South America"
By Sandy Borden
November 2, 2015
FOR IMMEDIATE RELEASE
Dallas, Texas – In May of 2013, Terry and Sandy Borden shook hands on what would be the biggest decision in their over 25 years together. That decision? To downsize their lives, leave what was considered a "normal" life, and take to the road with their 13-year-old son, Jack, for a year and a half on 2 motorcycles. Destination? South America. What may sound like an impossibility to most became a life-altering challenge for this typical suburban family. No strangers to family motorcycle travel, it was time for the Borden's to make a drastic change to their 90-hour-work week life before yet another year had passed.
Since Jack was 5 years old, the Borden's have taken many family vacations on their 2 BMW motorcycles. Traveling through Canada, Baja, and across the U.S., they knew that in order to teach Jack, and themselves, about the world beyond the media, they needed to get serious and take a few risks. And, they did. Within a year before their departure, they sold the house in the burbs, relocated to the small town of McCloud, California, sold most of their belongings, and took a leave of absence from the business that Terry had been a part of for most of his life. On September 13th, 2013, they watched the garage door go down on the life they knew, setting off onto a journey of self-discovery not just as individuals, but also as a family. While many are content with weekends on the soccer fields and trips to theme parks, the Borden's knew they were different. They soon dubbed themselves the "Suburban Weirdo's".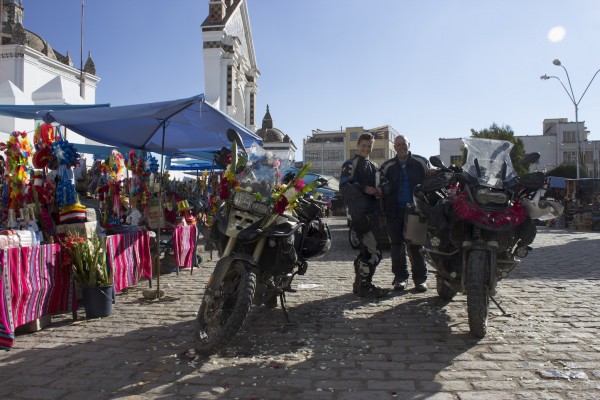 Now known as they Adventure Trio, this family of 3 has spent the last 14 months exploring mainland Mexico, Central and South America. They have danced in the streets of Zacatecas, Mexico, released wild turtles into the Pacific in El Salvador, and camped above 13,000 feet in the Andes of Peru. They've stayed in the homes of indigenous families in Guatemala and Peru. Some days, torrential rains have brought them to a halt while other days they can't seem to get enough of the open skies of the Salar de Uyuni in Bolivia. With Jack being fluent in Spanish, the transition into a Spanish-speaking world has been smoother than most. Jack always insisted on being the "point man" at border crossings and lodging negotiations.
While a traditional schooling environment was not possible for this teenager, the family decided to take the world schooling approach, Jack self-directing his schedule with topics of interest that included local history, photography, music, and museums (though his parents did insist on maintaining a stringent on-line math program while on the road). Everyday life skills also played a major role in Jack's learning portfolio. From everything to money exchange, daily budget and route planning through unknown territories, he now has skills he would not of gained if sitting in a classroom.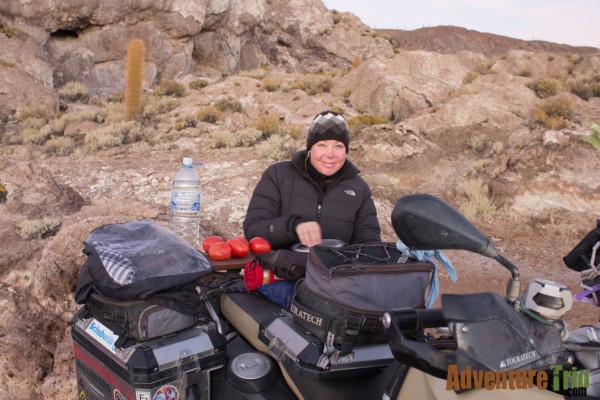 Their biggest lesson learned? We're really not all that different from those in other countries. We all need food and shelter. We all want is best for our children. But, most of all, the world and all her people are extremely beautiful and kind, with arms open to welcome these strangers on motorcycles into their homes for a meal and a room for the night. What we are told we should fear is actually the opposite if only we would let ourselves experience life beyond our usual.
Now back on U.S. soil, the Borden's are taking these last couple of months and exploring the southern states, presenting to local motorcycle and family groups, sharing their photos and stories from their time in Latin America. Currently at the home of a friend outside of Dallas, they want to invite other riders and non-riders, families and groups to share in their journey back to California. Visit their website at http://www.adventuretrio.com/follow-us to see where they are in REAL TIME to find out if they are in your area. You can jump in on the ride at any point whenever you want, for as long as you want. They also invite followers to pitch a tent and sit around the campfire as they share tales from Mexico to Colombia to Brazil, sharing stories of how life on the road has changed not only how they view themselves, but the rest of the world.
You can read more about this motorcycle traveling family on their website at http://www.adventuretrio.com, as well as check out some of their favorite photos on Instagram and Twitter, @AdventureTrio. LIKE them on their Facebook page for clues as to where they are headed next. They want to inspire as many families as possible to take a look at their lives and find ways to slow down, spend less, and enjoy more. The family motto? Don't ask why, as why not. If you don't take this time together as a family now, then when?
About Adventure Trio
Terry, Sandy and Jack Borden, are a California family that started traveling by motorcycle when son, Jack, was just 5 years old. Feeling that travel was better explored by motorcycle, they have ventured through Canada, Baja, and across the U.S. In 2013, they made the decision to change their lives by downsizing, selling most of their goods, and taking to the road via 2-wheels for a year and a half through Latin America.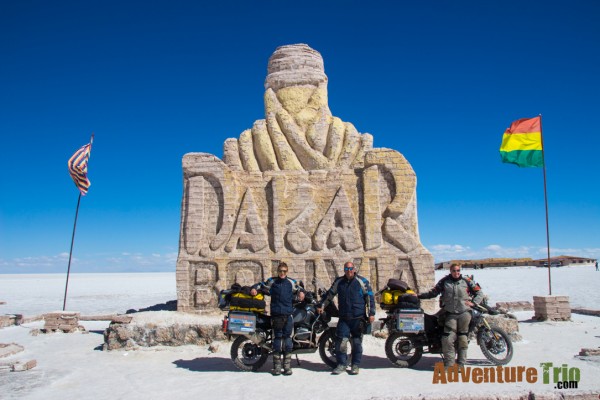 Contact
To learn more about the Adventure Trio or to schedule a presentation, please contact:
Sandy Borden
PO Box 654
McCloud, California 96057
Cell 530-380-2244
Email sandy@adventuretrio.com
Website http://www.adventuretrio.com
Twitter @AdventureTrio
Instagram AdventureTrio